Turtle Tour Expedition Report: July 8 – 24, 2009
Off, and on, the northwestern coast of New Guinea
by Suzanne Hendricks
The journey just to get to the boat, was long and interesting: four flights and three days of travel from Guam. We spent one night in Narita and another in Changi – Singapore's airport, site of the infamous WWII prison camp, and King Rat. Today, Changi has got to be THE most accommodating, efficient, and comfortable airport in the world. It's a place to easily spend ANY number of hours in transit, confident that your luggage will leave when you do. There's even a swimming pool! Yeah, REALLY!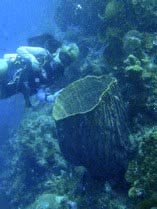 After Singapore, the trail to the turtles took us into the air for a seven hour JAL ride to Manado, on the northern tip of Sulawesi. We stayed at Murex, a small family resort, an exhilarating 50 minute, Mr.-Toad's-Wild-Ride, south of the airport. There, we enjoyed three full days of diving, with our guide, "Opo." The huge barrel sponges, and bottomless walls delighted us. Dave and I briefly swam with a pod of 15-20 pilot whales on our last day! The ride to Sorong, on Silk Air, took about 3 hours. This small, backwater port is the gateway to the Raja Ampats and amazing islands beyond. The world is just beginning to discover this area. The airport reminded me of the Micronesian scenes we encountered 30 years ago when we moved to the Pacific. The only other boats as we saw, as we moved around the archipelago for the next ten days, were locally built canoes and outriggers, and one large water taxi.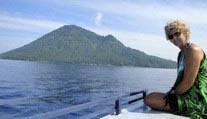 My visual impression of the Papuan and Indonesian ports we touched, is that there are at least as many churches as mosques in this, the worlds most populous Moslem country. Reportedly, all live harmoniously. The realities beneath the surface remain a mystery – we got on a boat and sailed away for ten days!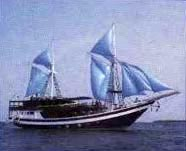 Twelve hours, and two dives, later we were near the crest of Bird's Head Peninsula at the Jamsburs-Medi Beach. We stopped at the small village closest to the nesting beaches to pick up tribesmen and women who would accompany us to the beach – another 3 hours motoring East. The Save Our Leatherbacks Organization has employed men from this village to monitor the area and protect the nests, re-locating them when necessary. Eroding beaches have confused some turtles into laying their eggs too close to the water. These nests would never have a chance – so freshly laid eggs must be immediately transfered to a better location above the wet sand.
There were 12 of us aboard the Raja Ampat Explorer as we set sail (literally) for one of the most distant parts of the planet. The Explorer is an Indonesian Phinsi; 109 feet – all wood.Five sails flew from the forward mast, three more aft. It was a very comfortable ride, with ALL the amenities. Eight men and four women. Eight returnees, and four on their first Turtle Tour.
Ten Statesiders, and two Guamaniacs. Eleven photographers. And me.
I took my my new digital camera and managed to punch off a staggering 42 shots during three weeks of exotic travel. My drug-store, underwater film-shooter, may eventually reveal up to 36 more memories… So, I am totally relying on new friends with impressive equipment and experience to provide visual documentation of our journey and am looking forward to re-living some very memorable times as they get their electrons arranged and e-livered! David, of course, has hundreds of photos: fish, crabs, corals, colorful worms, turtles – and a few of The Wife and other humanoids, (scubanoids?). His photography improved significantly after he discovered that the "plastic junk" that he left back home, that came with the new camera housing, was really an essential underwater flash diffuser… He has some great shots, some of which are attached here – the others are on Face Space or whatever.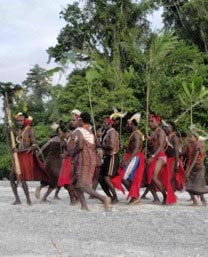 Getting ashore on Turtle Beach is always a thrill. The surf constantly breaks 1-4 feet on the steeply sloping sandy shore making it pretty impossible to stay dry, and nerve wracking for those with expensive camera gear, especially in the dark… There were bumps and impressive bruises – but, despite the excitement, no serious damage.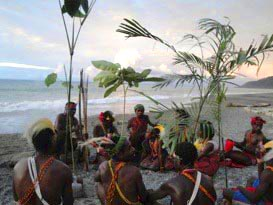 The Turtle Calling Ceremony, preformed as dusk approached, was National Geographic rated. Tribe members suddenly emerged from the jungle dressed in colorful costumes, singing and drumming. Headgear included only plumes from the Bird of Paradise – not the full bird-hat we saw two years ago. The Papuans chanted and danced, then they sat and smoked (?) and finally, imitating a turtle, one man crawled into the surf.
It was dark when we returned to the boat to have dinner and await word of turtles coming ashore. Before long, a radio message reported hatchlings so we all raced for the boats and the beach! It was an amazing sight as dozens of tiny turtles tumbled over beach debris and each other, heading for the water. Alas, I was so caught up in the experience I only managed to snap TWO shots of this exciting event – which was two more than David took… We walked carefully, cleared paths, and offered minor assistance until the surf swirled them all away, and we were alone on the beach again. Then we kept a long vigil under starry skies as we awaited the arrival of the huge leatherbacks.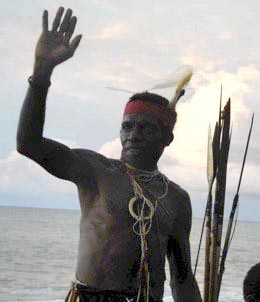 Two years ago we watched in the rain as three females lay eggs. In the morning trails indicated at least eight more had come ashore that night. This year only two females came ashore – and they did so after we returned to the ship at about 2 a.m. Only one laid eggs.
The next morning it was determined that the new nest would have to be re-located to the Turtle Corral where the eggs will be protected and watched over for six weeks. Expedition leader, Larry McKenna, then spent time teaching the beach monitors how to use a new digital camera and high-tech computerized thermometers. This is to forward ongoing research about the affect of temperature on nest viability and sex determination.
I'd like to say that After the Turtles everything got dull. Because that was certainly a highlight – and the initial focus of the trip. It was a harsh disappointment not to see any nesting females this year, but the journey did continue. The boat moved mostly at night, gently rocking us to greet the dawn in a new wonderland each morning.
Life on the Explorer was very comfortable. Thirteen attentive Indonesians tended to our every need. Dave and I got the "honeymoon suite" on the upper deck: Windows on the World! What a beautiful ride. Each cabin on the ship had plenty of storage space, great lighting, a full bath with hot shower and independent air conditioning. The salon was comfortable with plenty of space for photographers to re-charge and share their stuff. I called the upper deck the outgassing lounge. It was a great place to sit outside and read, write and doze before the next dive. Some of my favorite times aboard ship were in the dark, pre dawn, wandering the deck by myself, and trying to see where we were. The weather was moderate. There were a few showers at night, but the days were mostly clear and sunny.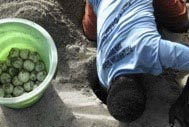 We made 28 dives over the next days as we sailed back around to the western coast of New Guinea and into the fabled Raja Ampat islands, then North to cross the equator, and beyond. The dive-masters and boat men were quick and competent. We were well briefed before each dive, and well led as we descended. We seldom dived deeper than 70 feet, but the currents were often tricky: intensifying abruptly, or suddenly changing direction. Reef hooks were a must on most dives. We made three or four dives each day. And each time we surfaced there was something good to eat and fresh blended juices to drink. The hot meals, served three times a day, were varied and delicious with plenty of fruit and vegetables.
As with most trips, often the best experiences and most memorable moments are of people. This was a great group! We were a diverse bunch when we began; by the end of the cruise, it was hard to say good bye. On our last night, David pulled out the DVD that Ernie Matson had given to us before our trip. PLAYING FOR CHANGE is a wonderful compilation of songs starting with Stand By Me and One World. Various musicians from around the world were recorded in a beautiful, seamlessly edited video. We left our copy on the boat much to the delight of our Indonesian friends and hosts.
Nothing really new – just another generation trying to save the world through music and understanding. Good stuff. Again. I encourage you to explore this website – and order your own copy. We've already ordered a couple replacements.
http://www.playingforchange.com
Until next time…
Suzanne – and the Guam Guy
Popcorn Magazine Links
Van Allen Animation – http://www.vanallenanimation.com/